Yuri Bodrov, UT1FG/MM Captain of The "MOTTLER"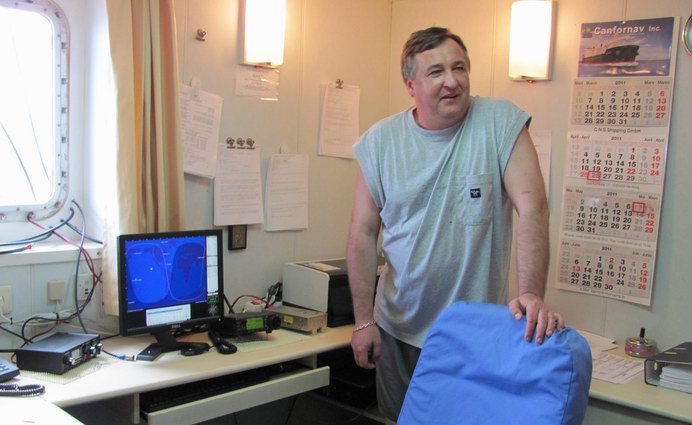 Yuri Bodrov, UT1FG/MM, Captain of the cargo ship "Mottler" in his satellite radio salon
The cargo ship Mottler is quite new, commissioned in 2009. As you can see, the ship is in very nice condition considering it has been on a voyage of at least 6 months. Yuri was first heard off the coast of Africa, sailing for Brazil back in October 2010. He traveled down the coast of South America and around the Cape of Good Hope. We were able to contact him again in December as he sailed up the west coast of South America towards the Panama Canal. He navigated thorugh the canal and into the Gulf of Mexico enroute to Spain. He then sailed to Germany and on to St. Petersburg Russia. From there he sailed back to New Orleans and then back around Florida and up the east coast to the St. Lawrence Seaway and Port Alfred, Quebec City Canada. His tour was supposed to end there but a scheduling problem gave him one more voyage, sailing back down to San Juan Puerto Rico. He arrived in port on April 25th, 2011. He will be flying back home to the Ukraine for a well deserved vacation.
Walt, WP4T, Carmen WP3PJ, Walner WP4NYS and Wes KP4WES drove over to San Juan in an attempt to visit him on the ship. They were successful and Yuri gave them the red carpet tour of his ship, the Mottler. Carmen & Walt took the initial photos and emailed them to me. The next day Walner WP4NYS emailed the photos he snapped wth his phone. I hope you enjoy looking at them and seeing the guy that operated from a few hundred water grids over the last 6 months using omni antennas. You'll notice that he had his radio on 50.110 when it wasn't on the satellite frequencies. Also you will notice the ships HF radio on 14250. Between Yuri's operation and Jim ND9M's shipboard operation, we were all treated to some great opportunities to work some very rare grids over the last few months. Thanks to both of them for the tremendous effort to operate onboard a ship at all hours of the day and night.